2009 - Mustang Day at Ashley Ford Sales
On June 20, 2009 Ashley Ford of New Bedford, MA held their 5th Annual Mustang Day.
Linda Morad of the City of New Bedford presented the owner of Ashley Ford, Robert Bancroft, with a Official City Resolution.

If you love MUSTANGS, you were there!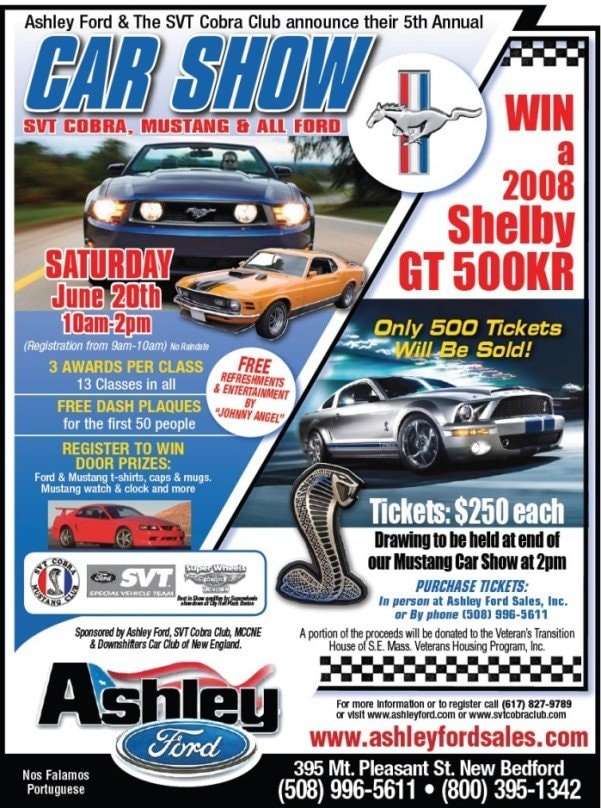 When was the last time you've seen a Shelby Cobra GT 500, Mach 1, early '65, 1985 GT with original sticker, and dozens of other classic and rare Mustangs all in one place? It's a sight that is seldom seen, and it always delights fans of the car that created the pony class.
Start the summer of '09 off with a 'stang!
Each year, the SVT Cobra Club, the Mustang Car Club of New England, the Downshifters Car Club of New England, and Ashley Ford sponsor one of New England's favorite car shows. Classic Mustangs, rare Mustangs, and other vintage Fords compete for prizes and the ooh's and ahh's of the crowd.
Entertainment, food, and prizes!
Of course the Mustangs are enough entertainment in themselves, and yet there is music, give-aways, hot dogs, soda, and more. It's a great day if you love Mustangs. It's a great day if you love cars. Heck, it's just a great day! Bring the family and show the kids the latest and greatest Mustang. Show them the one that was around when you were a kid. They'll be hooked on the Ponies too.
Be the first to know!
Fill in a contact us form and we'll also drop you an occasional e-mail, letting you know when rare and special Mustangs are in our showroom. Then you can come and take a look, even if you're only window shopping.
Let's talk!
We love Mustangs too, so we know what its like to just want to be around them. Stop by our showroom and let's talk about the nation's best-selling sports car ... the Mustang. We're located at 395 Mt. Pleasant St., New Bedford, Massachusetts. Give us a call at 1-800-395-1342.