Flag honors WWII hero Alfred E. Faria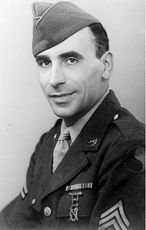 NEW BEDFORD - During the month of January, the 472nd flag to fly atop Old Glory Tower in the North End honors the memory of retired Mattapoisett Police Chief and decorated WWII hero Alfred Faria, who died at the age of 83 on Nov 18, 1995.
Born in New Bedford, Faria was a lifelong resident of Mattapoisett. He was a carpenter before entering the military. After returning from the service, he joined the Mattapoisett Police Department in 1947. He rose through the ranks to the position of chief in 1969 and served in that capacity for eight years until his retirement in 1977.
A WWII Army veteran, TSgt. Faria served in Co. F, 115th Infantry, where he was a platoon guide in the 29th Infantry Division. He earned the Combat Infantry Badge, the Europeon, African and Middle Eastern ribbon with three service stars and a Purple Heart after being wounded on Omaha Beach at Normandy during the D-Day invasion of France.
Faria ventured back to the beaches of Normandy in June 1992 with his son, Leonard Corcoran, affectionately known as "Starchy." He also returned to Omaha Beach for the 50th anniversary of the June 6, 1944 landings. His trip was documented in a memoir written by Leonard.
In this memorable story he thanks Joseph Balkoski, author of "Beyond the Beachhead," "an unknowing companion but most important member of the trio of travelers. Without his poignant and often provocative facts of the events which occurred during June 1944, the true meaning of this trip could not have been realized."
During their visit, Faria remembered the sting of a bullet slashing through his cheek as he advanced on the beach. According to the memoir, the landing craft bringing his platoon to shore struck an obstacle called a "hedgehog" which consisted of steel rails protruding at different angles from a concrete block. The landing craft was immediately sunk by a shell from a German 88mm gun.
In water just under his chin, weighted down with his combat pack, he hid behind the hedgehogs. He made his way to the beach under intense fire from well-placed artillery and heavy machine gun fire from German defensive positions high on the hill just off the beach.
Faria recalled "when we were in England training, I remember it was the rule that no one, but no one, fell out during forced marches. Once, one of the other soldiers didn't look like he would make it, so I gave my rifle and his to another guy. I took the arm of the worn out guy, placed it over my shoulder and literally carried him back to bivouac. When we arrived, I called the doctor and when he examined this guy, he was dead. I remember the doctor said, 'What a waste.'"
He also recalled "I remember one day when we were moving along the road when General Gerhardt came along. When he saw me, he was a little surprised so he asked, "Are you still with us?" I looked up and said, "old soldiers never die." It was kind of funny because everyone called me "Pops" because I was the oldest in the bunch."
During his visit to the American Cemetery near Omaha Beach, Faria commented about the beautifully manicured grounds and the perfect peace and quiet. More than 6,000 Americans died that day, most of whom were from the 29th Division.
Faria and his son met up with three other Americans and discussed the beauty and serenity of the beach in contrast to the noise and confusion of D-Day. They were quite surprised that the graves were set without regard to rank or unit. One section where a Lt. Gen. Leslie McNair is buried next to a staff sergeant who lies next to a corporal.
The inscription on the 29th Division Monument read: "From the North and South of our land we came that freedom might prevail. On D-Day, 6 June 1944, in the great Allied amphibious assault, the 29th Infantry Division stormed ashore on Omaha Beach to win a beachhead. Our fallen lie among you. They gave the last full measure of their devotion. Sleep comrades forever young. We salute you. Remember us."
As they left, Faria relived again.5,000 ships, 40,000 troops, 3,500 vehicles, as well as the thousands killed and wounded.
Faria was the son of the late Joseph and Mary (Rosa) Faria. He was the husband of Elizabeth F. (Healy) Corcoran. He married the widowed "Florrie" and accepted her four children as his own. He had three daughters, Elizabeth Cadieux (deceased); Nancy Lambalot and Geraldine Lanagan, both of Mattapoisett, and a son, Leonard Corcoran (deceased) of Maryland. He had two sisters, Lillian Boyd of Providence, R.I. and Alice Hunt of Stuart, Fla, 19 grandchildren, and many great-grandchildren. Faria, or "Papa" as he was known, was grandfather of the Corcorans, Lanagans, Lambalots and Cadieuxs. He was a member of the Florence Eastman Post 280 American Legion of Mattapoisett, the Lions Club and the Massachusetts Chiefs of Police Association.
The late Joseph Theodore, a World War II veteran and Purple Heart recipient, began the practice of flying veterans' flags above the Old Glory Tower 38 years ago.
Linda Ferreira, a marketing representative at Ashley Ford in New Bedford, researches the life histories of area veterans. Paul Neary, general manager of the dealership, raises the memorial flags on the veterans' behalf. Those who would like to honor a veteran by flying a flag at Old Glory Tower can contact Ferreira at (508) 996-5611 or at marketing@ashleyfordsales.com