Potholes Wreak Havoc on Your Vehicle!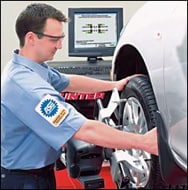 Had enough of the snow? Now that it's nearly gone, the potholes are everywhere, wreaking havoc on your vehicle! They can throw your car out of alignment and damage your undercarriage. It's time to get your car's alignment and undercarriage checked.come to Ashley Ford for your inspection!
Alignment Check
Suspension & Undercarriage
Inspection
$29.95
Upon inspection of your vehicle if we determine that your vehicle does need an alignment, we are offering discounts on that service as well.
2- Wheel Alignment Special - $59.95* (regularly $69.95) - $10 Savings
4- Wheel Alignment special - $89.95* (regularly $99.95) - $10 Savings
*See Service Department for complete details, prices may vary depending upon vehicle. Offer expires 4/30/15.
Click Here to schedule your service appointment today