Flag honors WWII Navy veteran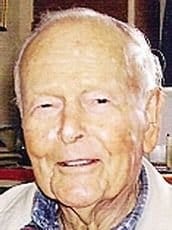 NEW BEDFORD - During the month of February, the 473rd flag to fly atop Old Glory Tower in the North End honors the memory of WWII Navy veteran Eli Ferguson, who served in the U.S. Navy from 1936 to 1947. He was a chief fire controlman and was a survivor of the USS Vincennes sinking during the Battle of Midway.
Mr. Ferguson was honored by the Naval War College on the 68th anniversary of the Battle of Midway during a ceremony held in June, 2010, one of two veterans honored at the ceremony.
The battle took place June 4-7, 1942 and was regarded as the turning point in the Pacific during WWII. Each year the U.S. Navy pays tribute to those WWII veterans who brought the U.S. to victory at Midway.
According to a news release from the Naval War College, "during the battle, U.S. Navy carrier strike forces, augmented by shore-based bombers and torpedo planes, decisively defeated an Imperial Japanese navy carrier task force. These actions prevented Japanese forces from capturing Midway Island. An important marker in the US Naval heritage, the Battle of Midway changed the course of the war in the Pacific within just a few short days. The victory ... was born out of the mettle of American sailors, marines and airmen. They entered this battle with inferior numbers, aircraft, torpedoes, and without substantial backup forces. They compensated for their material shortcomings with courage, discipline and commitment to mission accomplishment."
Mr. Ferguson was born in Cordele, Ga. He entered the military in 1936 where he met his wife Mary (Mullins) who was in the Naval Nursing Training program. They married and raised 12 children. They had six daughters: Cynthia Jeffrey and Julia Ferguson of Westport, Madeline Ferguson of El Cerrito, Cal., Kate Ferguson of Cranston, R.I., Ann Ferguson of South Dartmouth and the late Martha Leatherby; as well as six sons: Daniel of Dartmouth, Eli "Fergy" of Naples, Fla, Andrew of Westport, Thomas of Rochester, Jeremiah of Freetown and the late James Ferguson.
Mr. Ferguson was a master electrician for most of his life and was a member of the Electrical Union for 35 years, serving as president for many years. He enjoyed his large vegetable garden and travelling with his wife to all 50 states in their motor home.
The late Joseph Theodore, a World War II veteran and Purple Heart recipient, began the practice of flying veterans' flags above the Old Glory Tower 38 years ago.
Linda Ferreira, a marketing representative at Ashley Ford in New Bedford, researches the life histories of area veterans. Paul Neary, general manager of the dealership raises the memorial flags on the veterans' behalf. Those who would like to honor a veteran by flying a flag at Old Glory Tower can contact Ferreira at (508) 996-5611 or at marketing@ashleyfordsales.com