6/20/15
Mustang Mania at Ashley Ford's 11th Annual Car Show  
Ashley Ford celebrated their 11th Annual SVT Cobra, Mustang and All-Ford Car Show on Saturday, June 20th with all time high of one hundred twenty seven entries.
The show included Mustangs from the '60's all the way to the current model as well as Ford models including convertibles, street rods and custom Fords. They had a record breaking number of 127 cars registered for the show and we awarded 48 trophies for 16 classes.
Paul Manette from Cruisin' New England Magazine was on hand with his "Tour of Champions." Manette was joined by Bill and Sylvia Sgambato with their 1934 Ford Coupe, Roz and Dennis Pitts with their 1928 Ford Tudour Sedan, Bud and Karen O'Hearn with with 1954 Chevy Corvette and last but not least, James Gallagher with his 1941 Willys Street Rod Pro Street.
The overall winners of the day were Carl Burke with his 1966 Mustang Fastback and DJ Brennan with his 2004 SVT Cobra Mustang convertible. They tied for the "Best in Show" award and will both be entered in the Super Wheels Showdown in Boston later in the year. The show was co-sponsored by the SVT Cobra Club and the Downshifters Car Club of New England.
4/25/15 
ASHLEY FORD RAISES $4680 FOR DARTMOUTH HIGH SCHOOL
-An exciting test-drive fundraising event generated money for DHS After Prom Committee, helping students in the local community stay safe after Prom-
             Dartmouth, MA - Ashley Ford Sales of New Bedford teamed up with Dartmouth High School to raise funds for the After-Prom on Saturday, April 25th at the high school. Although it was a cool, windy day, the turn out for the event was tremendous. A total of 234 parents, students, staff and community members test drove a vehicle to support the school, raising a total of $4680 for the After Prom.
            "It was a wonderful turnout. There was a constant flow of people taking test drives. We brought six vehicles to Dartmouth High School, but the most popular ones were the Ford Edge, Ford Explorer and the newly designed 2015 F-150," state Bob Bancroft, owner, Ashley Ford Sales.
            "Our dealership really enjoys sponsoring Drive 4 UR School programs for area high schools and we were excited to bring this unique fundraiser to Dartmouth High."
            "The After Prom Committee would like to thank Ashley Ford for hosting the Drive 4 UR School event in support of the Dartmouth High School After Prom," said DHS Event Co-Chair Kathy Gaspar.
                "Their goal of bringing safety issues surrounding driving coincides with our goals of keeping our students safe by providing them with an evening of entertainment and life-long memories with their peers," added DHS Event Co-Chair Michele Lyons.  "The After Prom event would not take place without fundraising events such as the one Ashley Ford is providing. It requires a community support to make this event a reality."
            To find out more information, visit our page: http://ashleyfordsales.com/Drive-One-4UR-School/.
September 19, 2014 | Dearborn
Ford Replaces Econoline Vans and Ranger With Versatile, Fuel-Efficient Transit Vans Ford has introduced a brand new van that does everything from hauling cargo to carrying people. When Ford decided to phase out the E-Series van and Ranger, they went to the drawing board and redesigned the new 2015 Transit from the ground up. This new lightweight yet durable unibody construction is available in 47 configurations with three roof heights and three body lengths with flexible cargo volume and payload options and offers better fuel economy than the previous E-Series and Ranger models. What does this mean for the consumer? "Well this major transformation offers better fuel economy, more customization and flexibility," stated Robert Bancroft, Ashley Ford President. "Ford found that commercial customers were looking for more fuel-efficient vans, so instead of getting 12-15mpg with a V-8 engine, the new Transit Cargo Van has been designed with a V-6 engine that gets up to 19 mpg. The fact that this van gets better fuel economy has been a huge benefit and we've had plumbers and electricians who have bought the new Transit and were thrilled that Ford now offers this alternative," stated Bancroft. The new 2015 Ford Transit is available in four different models including cargo van, passenger wagon, chassis cab and cutaway. Bancroft explains "The Transit Wagon replaces Ford's prior passenger wagons: the Ford Windstar, Freestar and E-Series models and is available in 8, 10, 12 and 15 passenger seating in single and dual-rear wheel models." The Transit Connect is the FWD smaller van that provides enclosed space perfect for Florists, Caterers, and Cleaners that don't require a lot of space but need a van to carry their cargo. "This smaller van was designed to replace the Ford Ranger which was a rear wheel drive vehicle. It's perfect for small delivery businesses and gets up to 28mpg and pricing starts at only $22,000."
"The Transit Cargo Van is the larger van and replaces the Econline E-150, 250 and 350 models," Bancroft explained. The Transit Cargo Van offers a variety of lengths and heights for the cargo volume and payload businesses may need. With a GVWR from 8,650 lbs. (single rear wheels) to 10,360 lbs. (dual rear wheels) and payloads from 2,290 (single rear wheels) on up to 3,710 lbs. (dual rear wheels), The Transit Cargo Van is available with a 3.5L Eco-Boost V-6 engine or 3.7L Ti-VCT V-6 and gets up to 19 mpg, which replaces the 4.6L V-8 on the E-Series. The list price of the Transit Cargo Van starts at $29,565.
There is also a choice of window configurations from no windows to windows all around and choices in between. There are also different door configurations from 60/40 hinged cargo doors to single and dual sliding side doors. There are also rear hinged 5050 cargo door models that swing open 180 degrees. Ford Motor Company has introduced the Crew ChiefT powered by Telogis®* to help businesses keep track of their fleet and assist them in everything from vehicle maintenance alerts to routing. A GPS-enabled "black box," mounted inside the vehicle, records and processes useful information including current location, speed and fuel economy to airbag status and oil life remaining. Crew Chief uses this data to create reports and real-time alerts for metrics that are important to businesses bottom line. It monitors driver safety belt usage and real-time diagnostic alerts and Crew Chief does all this while your vehicles are on the road.
Of course the Ford Transit also offers many convenience features including the available hands-free SYNC system to access mobile communications, entertainment, directions and travel information using simple voice commands. Other available features include the rear View Camera with Trailer Hitch Assist, reverse sensing and Lane-Keeping alert which warns you when you're drifting out of your lane by vibrating the steering wheel.
To find out more about the newly designed Transit Cargo Van and Passenger Wagon, contact Ashley Ford at (508) 996-5611 and a professional sales associate can provide you with the information you may need or visit Ashley Ford's website http://ashleyfordsales.com/2015-Ford-Transit-Cargo-Van-Passenger-Wagon/.
July 18, 2014 | Dearborn
Fairhaven High School Receives
$2200 Check from Ford Motor Co.
New Bedford, MA - Ashley Ford Sales sponsored a Drive 4 UR School event held at Fairhaven High School on May 3rd to raise funds for the school's After Prom committee.
"Drive One 4 UR School is a great way for our dealership to partner with local schools for an important cause." says Bob Bancroft, owner, Ashley Ford Sales. "All of the money raised will help support the Fairhaven High School After Prom and their efforts to keep our local kids safe after such an important event."
There were a total of 106 people who came to the event and test drove a new Ford. Ashley Ford Sales and Ford Motor Company donated $20 to Fairhaven High School's After Prom Committee, for each test drive, totaling $2200.
Since the start of Ford's Drive 4 UR School program in 2007, millions in donations have been generated for high schools nationwide. This year, Ford dealerships and local communities across the United States will reach an important milestone having helped raised more than $20 million dollars for high schools thanks to their hard work and partnership with the Drive 4 UR School program.
To view photos of this event go to: http://ashleyfordsales.com/Drive-One-4UR-School/
June 21, 2014 | Dearborn
10th Annual SVT Cobra, Mustang & All Ford Car Show

Two of the world's most recognizable icons are coming together April 16-17, as the all-new 2015 Ford Mustang convertible will be on display on the observation deck of the Empire State Building in New York. The display - replicating the same feat from nearly 50 years ago - coincides with the global celebration of 50 years since Mustang debuted at the 1964 World's Fair in New York.
Ashley Ford celebrated their 10th Annual SVT Cobra, Mustang and All-Ford Car Show along with the 50th Anniversary of the Ford Mustang on Saturday, June 21st!
The show included Mustangs from the '60's all the way to the current model as well as all-Ford models including convertibles, street rods and custom Fords. They had a record breaking number of entries for our 10th Annual Car Show! A total of 95 people registered for the show and we awarded 44 trophies for 16 classes.
The following were our first place winners: Rachel Valenzano with her 2013 orange Mustang Boss 302 in the '05-'13 stock class; Patrick Jordan with hs '13 Boss 302 in the '05-'13 Modified class; Everett Philla with his '55 T-Bird in the '50-'59 Ford class; Dave Lithway with his '65 Cobra replica in the '60-'69 Ford class; Albert Lagarto with his '73 mustang Mach 1 in the '64-'73 Mustang stock class; David Gonsalves with his '93 Mustang in the '74-'93 Mustang Modified class; Robert Goulart with his '93 Mustang Cobra in the '74-'93 Mustang stock class; Michael Neider with his '72 orange Ford Maverick in the '70-79 Ford class; Jason Oliver with is '01 Mustang Cobra SVT in the '95-'04 Mustang Modified class; John Raposo in the '95-'04 Mustang Stock; Dolores Faber with her '58 Ford Skyline Convertible in the Convertible class; Bob Hart with his '54 Ford Mainline and Omar Deschamps tied in the Custom class; Jerry O'Connor in the Truck class; Emerson Roswalt in the Other Class;; and Richard Ruggieri with his '66 Mustang Coupe in the '64-'73 Modified class.
The overall winner of the day, Rachel Valenzano took home the "Best in Show" award and will be entered in the Super Wheels Showdown later in the year. The show was co-sponsored by the SVT Cobra Club and the Downshifters Car Club of New England.
To view photos of the day's event go to: https://www.facebook.com/media/set/?set=a.10152316040564713.1073741839.156676869712&type=1&l=adb2cb5e42
Mar 13, 2014 |
Dearborn
'Need for Speed' Director Opts for Real Stunts Led by Ford Mustang -- Paying Tribute to Classic Car Action Movies
https://media.ford.com/content/fordmedia/fna/us/en/news/2014/03/13/need-for-speed-director-opts--for-real-stunts.html?app_data=%7B%22pi%22%3A%2253277c4afee4263a4d00001c%22%2C%22pt%22%3A%22wall%22%7D2010 Ranger 5.jpg
2/28/14
Winners of President's Event Give-A-Way Announced!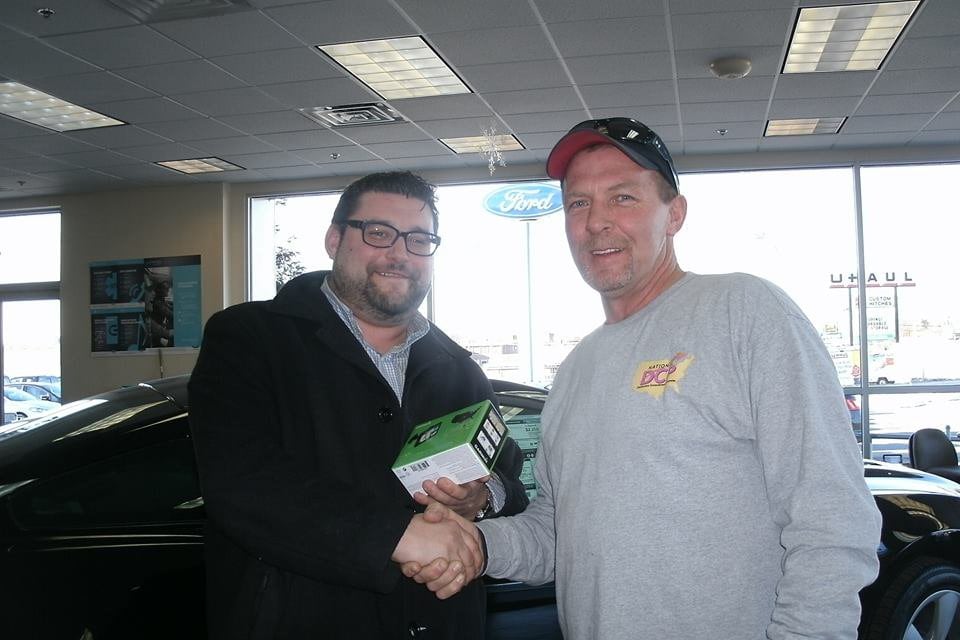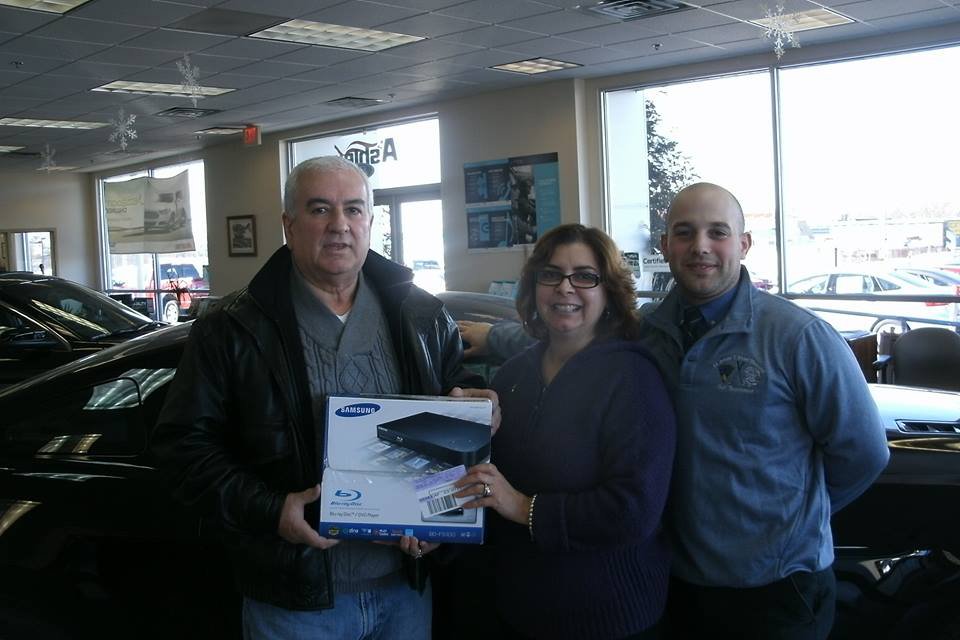 Ashley Ford announced the three winners of their President's Event Give-a-Way and three people are a bit happier today! The grand-prize winner, Brian Ribeiro, walked away with a 40" HD TV while Gerry Houde, of New Bedford, won a portable GPS and Manuel Medeiros, of Rochester, was the winner of a Blu-Ray DVD player. Congratulations to all the winners!
9/20/13
What Ever Happened to the Ford Ranger?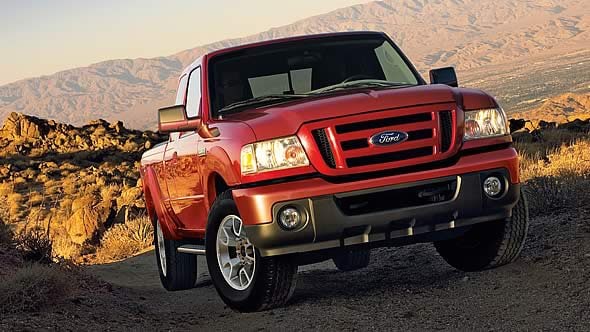 We asked that question to Robert Bancroft, President of Ashley Ford. The last model manufactured was the 2011. "The Ford Ranger was at the end of its lifecycle," explained Mr. Bancroft. "The Ranger was built off of the same platform as the Ford Explorer. But when Ford Motor Co. completely redesigned the Ford Explorer and changed the platform from a body on frame to a uni-body that meant the Ranger would need to be redesigned as well. Ford Motor Co. determined that in order to produce the Ranger with this same platform would be too cost prohibitive. The cost of the Ranger would then be nearly as expensive as the F-150."
It was determined that the Ford F-150 with it's 3.5L and 3.7L 6 cylinder engine would actually get better gas mileage than the Ranger so Ford Motor Co. decided to discontinue the Ford Ranger.
Many Ranger users were commercial customers who needed a compact pick up with an enclosed box. Many of these Rangers customers chose to purchase a cap to make it useful for their business. In comes the Ford Transit Connect. Bancroft explained "the Transit Connect has filled that void. It's a perfect fuel-efficient van replacement for the Ranger and most of our customers are delighted with the Transit Connect. Another nice feature is that businesses can personalize their van and turn it into a traveling billboard for their company."
Big Wheel Bob Bancroft of Ashley Ford Sales

Five years success in a business is a major milestone. Fifty years of successful business borders on epic and doesn't happen by accident. That is something that has to be carefully crafted, orchestrated and designed. It has to have a solid business plan, leaders, employees, service and a fantastic product. Most important of all, it has to be community accepted and supported. You can have a superior product and people will go down the road to buy an inferior product - even pay more - because the service is better.
http://www.newbedfordguide.com/city-icon-ashley-ford-celebrates-50-years-of-excellence/2013/09/02

Ashley Ford is pleased to announce their partnership with the New Bedford Guide. "I was born here in New Bedford and have always had strong ties to the community so it's a perfect fit" stated Robert Bancroft, President of Ashley Ford. "We've been investing in New Bedford and the surrounding communities for the past 50 years and we're thrilled to partner with the New Bedford Guide, an organization that works diligently to promote all the positive attributes of the city."
http://www.newbedfordguide.com/ashley-ford-partners-new-bedford-guide/2013/07/15
Record Numbers at Ashley Ford Car Show

Ashley Ford's 9th Annual SVT Cobra, Mustang & All Ford Car Show was held Sat., June 22nd and had a record number of cars and spectators! The weather was perfect and Ford fans from all over New England came out in force making this the biggest turnout ever. Mustangs from the '60s all the way to the current model were represented with some of the finest examples in the area.

Albert Lagarto won first place in the '64-'73 Mustang stock category with his bright yellow '73 Mustang Mach 1 while Richard Ruggeri won first place in the modified category with his red '66 Mustang Coupe.

The late model Mustangs were also well represented and not the least of which was Patrick Jordan who won first place in the '05-'13 Mustang modified category with his black 2013 Mustang Boss 302. The overall winner for day was Rachel Valenzano who not only won first place in the stock category but also placed "Best in Show" with her orange 2013 Mustang Boss 302. Rachel qualified to attend the SuperWheels Showdown in Boston in the fall.

It wasn't just Mustangs at Ashley Ford. Other first place winners included Everett and Faye Philla with their outstanding '55 red T-Bird while Dolores and Alan Faber won first place in the convertible category with their 1958 Skyliner with a retractable roof. Bob Hart and Omer Decamps tied for first place in the custom category. Mr. Hart with his '54 red Mainline and Mr. Decamps with his red '54 Skyliner.

Representatives from the SVT Cobra Mustang and Downshifters clubs were on hand to make sure everything ran smoothly. All in all, it was the best show Ashley Ford has ever sponsored and they are looking forward to their "10th Annual Show" next year!
Five Questions with Gordon Platto, Head Designer of the Ford Atlas

Unless you've been living under a really big rock for the past five months, you're well aware of the Ford Atlas and all of the hype it has created. You also probably know how Ford unveiled the Atlas less than 24 hours after Chevrolet pulled the satin sheet off the C7 Corvette Stingray at the 2013 North American International Auto Show. After the dust settled, Ford faced instant pressure to answer if this was actually the thirteenth generation of the F-150. The Blue Oval has actively dodged this question, saying the Atlas is a simple exercise in design aesthetics, while simultaneously and continuously showcasing it around the country. To get to the bottom of all this, we spoke with Gordon Platto, whom Ford put in charge of designing the Atlas.
http://blogs.automotive.com/five-questions-with-gordon-platto-head-designer-of-the-ford-atlas-137293.html

Not long ago, Ford did a good job of dropping a huge surprise at the North American International Auto Show in Detroit with the Atlas concept pickup. Some super-cynical types went so far as to suggest the super-secretive concept was unveiled in Detroit to steal as much thunder as possible from the recently revealed all-new 2014 Chevy Silverado and GMC Sierra. Well, here we go again.

http://news.pickuptrucks.com/2013/04/2015-ford-atlas-concept-takes-shape.html

Ford Atlas Concept Truck

Tori Tellem,
October 10, 2012
http://social.ford.com/our-articles/cuvs/c-max/how-to-get-better-fuel-economy-right-now/
Getting the best fuel economy possible is on pretty much everyone's mind right now, whether you're going the hybrid route or sticking with conventional technology. What are some ways to maximize mpg? Glad you asked - we've got tips galore:
1. Chill. Traffic, distracted drivers around you and running late can get the best of each of us, then next thing we know, we're accelerating and braking rapidly, weaving and having false starts at signals. The U.S. Department of Energy's (DOE) website, www.fueleconomy.gov says aggressive driving can lower gas mileage by a whopping 33 percent at highway speeds and 5 percent in the city. Aim for smooth acceleration and braking.
2. Empty. Do you need to lug all that stuff around in your vehicle at all times? The DOE estimates that an extra 100 pounds in your vehicle could reduce your mpg by up to 2 percent. Minimize carrying unnecessary weight.
3. Idle. Don't, actually. Shut off your engine if you're parked rather than sitting there idling. It could burn a quarter to half gallon of fuel per hour, depending on your engine size and if the A/C is on, according to the DOE. On the other hand, don't keep shutting your engine off and turning it on as an alternate solution; you could wear out the starter.
4. Tires. There's a straight line between mpg and tires. When they're properly inflated, you can improve your fuel economy by up to 3.3 percent, according to the DOE, while underinflation could lower your mpg by 0.3 percent for every 1 psi drop in pressure of all four tires, not to mention cause the tires to wear more quickly. Check your vehicle's door sticker for minimum cold tire inflation pressure.
5. Accessorize. Minimize the use of heated seats, A/C and other power-drawing accessories. These draw electrical energy, which comes from the high-voltage battery via the DC/DC converter. All energy used will have to be replaced either by running the engine or collecting energy while braking if you're in a hybrid.
6. Slow. Another form of aggressive driving - speeding - can be a big fuel waster. Gas mileage usually decreases rapidly at speeds above 60 mph. Reducing your speed from 65 to 55 mph can improve your fuel economy by up to 15 percent, and reducing your speed from 70 to 55 mph can improve your fuel economy by up to a whopping 25%. So what's your hurry?
7. Cruise. Using cruise control helps you save fuel in two ways. First, it controls your maximum speed, which can help you stay below 60 mph. Second, it maintains a constant speed, which means you won't be pumping extra fuel into your engine to accelerate. Many modern vehicles will let you monitor your mpg while you're driving. You should aim to set your cruise control at your vehicle's most fuel-efficient speed, as long as it's at or below the legal limit.
And when it comes to record-breaking fuel economy, it's hard to beat the new Ford C-Max Hybrid and Fusion Hybrid. The Fusion Hybrid will be getting an EPA-estimated 47 mpg city and highway, making it the most fuel-efficient midsize sedan available!
Ford Unveils Twin-Turbo Cobra Jet Concept at SEMA Show
Drew Hardin,
November 1, 2012
http://social.ford.com/our-articles/cars/mustang/ford-unveils-twin-turbo-cobra-jet-concept-at-sema-show/
Tire-frying torque. That's how Jesse Kershaw, Ford Racing drag racing competition manager, described the performance of the Cobra Jet Twin Turbo concept that was introduced at the SEMA Show in Las Vegas on October 30, 2012.
The original Cobra Jets made headlines back in 1968, when Ford brought a fleet of the 428-powered Mustangs to the NHRA Winternationals and quickly changed the face of production-based drag racing. Forty years later, Ford Racing revived the iconic Cobra Jet name for a limited run of race-prepped Mustangs to compete in the NHRA Stock and Super Stock classes. Right out of the gate, the new Cobra Jet was winning races and setting records, so Ford has continued to offer the drag racer, typically in batches of 50 cars on a first-come, first-served basis.
The contemporary Cobra Jet has evolved since that 2008 model, and for 2013 is offered with either a naturally aspirated or supercharged 5.0L V8. The Twin-Turbo Concept is also 5.0 powered but takes forced induction in a different direction. Unlike a belt-driven supercharger, which requires engine horsepower to operate, a turbocharger is driven by exhaust gas, so there is no parasitic power loss.
Most drag-race turbochargers have fairly large housings to maximize airflow to the engine. The turbos on the Cobra Jet Concept, however, are surprisingly small, and are in fact based on the turbos used on the 2.0L EcoBoost engine in the new Ford Focus ST. These units are small for a reason: to cut down on turbo lag. They are also filled with lightweight titanium aluminide turbine wheels - riding on ball bearings - that essentially halve the rotational inertia of the stock Focus turbos. Between their small size and featherweight components, the turbochargers can quickly spool up to 150,000 rpm and provide nearly
Driving in Snow & Ice Safely
The best advice for driving in bad winter weather is not to drive at all, if you can avoid it.
Don't go out until the snow plows and sanding trucks have had a chance to do their work, and allow yourself extra time to reach your destination.
If you must drive in snowy conditions, make sure your car is prepared, and that you know how to handle road conditions.
It's helpful to practice winter driving techniques in a snowy, open parking lot, so you're familiar with how your car handles. Consult your owner's manual for tips specific to your vehicle.
Driving safely on icy roads
1. Decrease your speed and leave yourself plenty of room to stop. You should allow at least three times more space than usual between you and the car in front of you.
2. Brake gently to avoid skidding. If your wheels start to lock up, ease off the brake.
3. Turn on your lights to increase your visibility to other motorists.
4. Keep your lights and windshield clean.
5. Use low gears to keep traction, especially on hills.
6. Don't use cruise control or overdrive on icy roads.
7. Be especially careful on bridges, overpasses and infrequently traveled roads, which will freeze first. Even at temperatures above freezing, if the conditions are wet, you might encounter ice in shady areas or on exposed roadways like bridges.
8. Don't pass snow plows and sanding trucks. The drivers have limited visibility, and you're likely to find the road in front of them worse than the road behind.
9. Don't assume your vehicle can handle all conditions. Even four-wheel and front-wheel drive vehicles can encounter trouble on winter roads.
If your rear wheels skid...
1. Take your foot off the accelerator.
2. Steer in the direction you want the front wheels to go. If your rear wheels are sliding left, steer left. If they're sliding right, steer right.
3. If your rear wheels start sliding the other way as you recover, ease the steering wheel toward that side. You might have to steer left and right a few times to get your vehicle completely under control.
4. If you have standard brakes, pump them gently.
5. If you have anti-lock brakes (ABS), do not pump the brakes. Apply steady pressure to the brakes. You will feel the brakes pulse - this is normal.
If your front wheels skid...
1. Take your foot off the gas and shift to neutral, but don't try to steer immediately.
2. As the wheels skid sideways, they will slow the vehicle and traction will return. As it does, steer in the direction you want to go. Then put the transmission in "drive" or release the clutch, and accelerate gently.
If you get stuck...
1. Do not spin your wheels. This will only dig you in deeper.
2. Turn your wheels from side to side a few times to push snow out of the way.
3. Use a light touch on the gas, to ease your car out.
4. Use a shovel to clear snow away from the wheels and the underside of the car.
5. Pour sand, kitty litter, gravel or salt in the path of the wheels, to help get traction.
6. Try rocking the vehicle. (Check your owner's manual first - it can damage the transmission on some vehicles.) Shift from forward to reverse, and back again. Each time you're in gear, give a light touch on the gas until the vehicle gets going.
7. More Tips
Sources: National Safety Council, New York State Department of Motor Vehicles, Washington State Government Information & Services
Ford Social Treats Lucky Fans to VIP Treatment at the Ford Proving Grounds
Sean Johnston,
January 2, 2013
It's the stuff that dreams are made of - flying around the Ford Proving Grounds Test Track in a Ford Mustang. The speedometer well into the triple digits as a professional driver takes corners with enough G-force to keep you affixed to the door.
But this dream was a reality for two lucky Ford Social members and their spouses recently, as they were surprised with invites to be our guests at the Henry Ford Health Systems "Get Your Heart Racing" event in Dearborn. And get their hearts racing we did.
Are you a Ford Social member? Keep grabbing badges and submitting stories and ideas! Who knows - we might select you to get the VIP treatment at an upcoming event!
After a mandatory safety training video, Steven Johnson and Larry Mankins - along with their wives Angela and Joann - took off from the Automotive Hall of Fame in Dearborn for an afternoon filled with fast cars and trucks, as well as ample adrenaline.
As unpleasant weather set upon the Ford Proving Grounds, our undeterred guests donned their helmets and queued up to participate in some hot laps around the test track. They had their pick of several high-performance Ford vehicles.
"I'm excited to drive Mustangs," recounts Mankins. "I was able to rent one when I was out of town. But it wasn't on a track or anything like that. So, it's hard to really explore the limits of performance using a rental vehicle."
Exploring the limits of Mustang performance also meant a few spins around the wet skidpad track for Larry and Steven. They got a first person account of what the Mustang - in the hands of a trained professional on a closed course - can do on wet pavement.
Exploring the limits of Mustang performance also meant a few spins around the wet skidpad track for Larry and Steven. They got a first person account of what the Mustang - in the hands of a trained professional on a closed course - can do on wet pavement.
As the day drew to a close, there was still one last score to be settled.
"I'm going to drag race my husband in a Raptor, and I'm going to beat him!" declared Joanne Mankins.
A feat that she accomplished not once, but twice, much to the dismay of her Raptor-owning husband Larry.
In the end, it was going to take a lot more than sore pride and rainy weather to dampen the spirits of our lucky Ford Social Members. The event gave them a unique, behind-the-scenes experience and generated memories that will last a lifetime.
Check out the video below to ride along with our participants and see more of what they experienced at the event. You can also check out Larry Mankins' Ford Social story on his experience at the track.
This was Henry Ford Health System's 2nd annual "Get Your Heart Racing" fundraiser at the Ford Dearborn test track. This exclusive opportunity for auto enthusiasts to participate in thrilling driving events and demonstrations while raise money for Henry Ford Health Systems.
Say Hello to Motor Me
Charlie Snearly,
December 19, 2012 12:00 AM
Here at Ford Social, we've spent the last few years asking you to share your car's stories with us. Now, we'd like to give your car a chance to tell its own story? in its own voice!
You can do just that using Motor Me, a new free app available now for smartphones using either iPhone or Android operating systems. Motor Me lets you record yourself and then have a Ford vehicle that you choose say whatever is on your mind.
Imagine what this truck wants to say about being converted to run on vegetable oil, or what this proud family of Ford vehicles talks about when the garage door closes. The only limit is your creativity, and we already know that you have a lot of that!
When you put together a masterpiece on the Motor Me app, you can easily share it with your friends on Facebook or through email. You can also store it on your phone to show off in person.
Download the app and enjoy this free goody from your friends at Ford Social! We can't wait to see what you come up with.
Ashley Ford to raise money for DHS with test drive fundraiser Oct. 20
October 10, 2012 12:00 AM
DARTMOUTH - Ashley Ford of New Bedford wants to keep important extracurricular opportunities available for our local students at Dartmouth High School and invites the public to test drive a Ford on Saturday, Oct. 20 at DHS to support the school's After Prom Committee.
By bringing Ford Motor Company's Drive 4 UR School program to the Dartmouth community, Ashley Ford hopes to raise up to $6,000 for Dartmouth High School.
For every person who takes the wheel and test-drives a new Ford vehicle at the school on Oct. 20, Ashley Ford and Ford Motor Company will donate $20 to Dartmouth High School. The funds will go to the After Prom Committee.
Each Drive 4 UR School participant also will be automatically entered to win an all-new 2013 Ford Escape valued at over $32,000.
"Our dealership really enjoys sponsoring Drive 4 UR School programs for area high schools and we are excited to bring this unique fundraiser to Dartmouth," said Bob Bancroft, owner of Ashley Ford Sales.
The event will feature many vehicles from Ford's impressive line-up. "Whether you are looking to test out our larger vehicles, like the Explorer or F-150, or are more interested in getting a closer look at Ford's impressive all-new Escape, we will be able to put you behind the wheel of your favorite Ford vehicle," Mr. Bancroft said.
"The After Prom Committee would like to thank Ashley Ford for hosting the Drive 4 UR School event in support of the Dartmouth High School After Prom," said DHS Event Co-Chair Kathy Gaspar.
"Their goal of bringing safety issues surrounding driving coincides with our goals of keeping our students safe by providing them with an evening of entertainment and life-long memories with their peers," added DHS Event Co-Chair Michele Lyons. "The After Prom event would not take place without fundraising events such as the one Ashley Ford is providing. It requires a community support to make this event a reality."
Since the start of Ford's Drive 4 UR School program in 2007, more than $11 million in donations have been generated for high schools nationwide. Locally, Ashley Ford has helped to raise nearly $12,000 for local schools.
To participate in this exciting event and get behind the wheel of your favorite Ford vehicle, visit Dartmouth High School, 555 Bakerville Road, between 9 a.m. to 4 p.m. on Oct. 20. No purchases are necessary.
Participants must be 18 or older and have a valid driver's license. There is a limit of one test drive per household. All test drives will last approximately 10 minutes.
August 22, 2012
Big Wheel: Christopher St. Pierre of Ashley Ford Sales
By Michael J. DeCicco
Posted Aug 22, 2012 @ 02:07 PM
New Bedford -
About Christopher St. Pierre
Name of Dealership: Ashley Ford Sales, Inc.
Dealership address: 395 Mt. Pleasant Blvd., New Bedford
Dealership phone number: (508) 996-5611 or 1-800-395-1342
Dealership website: www.AshleyFordSales.com
Dealership email address: sales@ashleyfordsales.com; service@ashleyfordsales.com; or parts@ashleyfordsales.com
Time at dealership: 16 years
Time in the industry: 16 years
Your dream ride/car: A 1968 Mustang Shelby
1. What is your role at the dealership?
Senior master technician in the service department - recently awarded an Automotive Service Award by the Ford Motor Company for being a master in chassis and drive train technology.
2. Tell us about the products you sell (or service.)
I service all vehicles, but I specialize in servicing hybrid and diesel vehicles. They are entirely different specialties that require constant training to be up to date on the new technology and systems.
3. What do you like best about your job?
Knowing we can fix anything that comes through the door.
4. What is the most challenging part of your job?
I have no answer. I enjoy my job and do it well.
5. If you could have any job in the auto industry, what would it be?
I'd love to own my own garage one day.
6. What advice would you give to someone who wants to enter the industry?
It's extremely important to stay up with new training and technology since it is always changing. You have to know how to repair the new vehicles with all the new technology such as the hands-free SYNC, fuel-efficient Ecoboost system, hybrid vehicles and more.
August 17, 2012
Click on the image to view as pdf.
July 20, 2012
If we were to say to you, "Hey, you, Ford has launched an innovative mobile recording studio in the 2012 Focus," would you think we were nuts? Nuts like a fox! The new Ford Mobile Studio will serve as the recording studio for three grand prize winners of the Ford Motor Company Gimme the Gig II sweepstakes.
In late February, a handful leaders in the automotive customization and music industries were on hand at Galpin Auto Sports in Van Nuys, California, for the debut of the Ford Mobile Studio to support the Gimme the Gig II sweepstakes. Hosted by Grammy award-winning producer, Don Was, Ford Sales & Marketing Manager, Tom Grill, expert sound engineer, Krish Sharma, and car customization professional, "Mad" Mike Martin of Galpin Auto Sports, attendees had the chance to witness a true industry first, the launch of a state-of-the-art mobile recording studio inside the Focus.
Local recording group, Magnolia Memoir, demonstrated the remarkable capability of the mobile studio, recording a track live at the event and allowing attendees to experience the cutting-edge digital equipment through instant playback.
"Our team has worked in countless recording studios across the world, and we were beyond surprised by how little we had to sacrifice in order to get all of the desired equipment into the vehicle," noted Don.
"Winners will have the chance to record an original track with Don Was and his team in the Ford Mobile Studio. We look forward to announcing our Top 12 finalists in the next 30 days," Tom shared. "Gimme the Gig II will also be featured in an upcoming television special to further showcase the bands and the 2012 Ford Focus."
"This project demonstrates a great synergy of corporate engagement with local artists who would probably never have had the chance to experience national exposure," said Krish.
"Mad" Mike, formerly of MTV's "Pimp My Ride", was on hand to explain some of the more technical pieces of assembling the vehicle.
"With over 2,000 feet of cable, this vehicle is a one-of-a-kind achievement. That being said, you will be shocked to know that the amazing sound quality in the playback is transmitted on the vehicle's stock speakers. A lot of the technology utilized in the studio was already in the vehicle, we just added the unique elements that made it a recording studio," he explained.
The vehicle will be used in the promotion of the Gimme the Gig II sweepstakes, with plans to take it on tour, giving artists across the nation access to its unique technology. See www.gimmethegig.com for more details.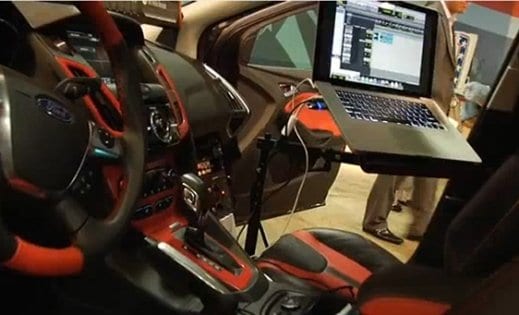 July 13, 2012
Is 1 Million Miles the New 100,000?
The odometer turning over to 100,000 miles is considered by many to be a rite of passage for a vehicle. The moment it crosses the threshold of automotive achievement is the moment when most people feel they've gotten a lot of miles out of the "old girl."
But in a world where automotive reliability and new technology can extend a vehicle's longevity past the 100,000-mile mark, does hitting six figures have the same distinction anymore? How about seven figures?
When Norman and Debbie Conner traded in their 2002 Ford F-350, it had just over 1,071,000 miles on it. What is perhaps even more extraordinary than the mileage on the Conners' truck was their reluctance to part ways with it.
"It hurt me to sell it," says Norman. "Not a mark on it, and it was still running fine."
However, when you make your living transporting campers and trailers across the country, you don't want to leave anything to chance. With that - and Norman's fondness for the new 6.7L Power Stroke® Turbo Diesel engine - they traded into a 2011 Ford Super Duty® F-350 last September, and continued their journeys. When their latest cross-country run is completed, the Conners will have around 84,000 miles on their latest Ford truck.
One would think that maintaining a truck would be difficult when you're putting so many miles on it so quickly, but not according to Norman. "If you want to get the miles out of it, you have to take care of the truck," he explains. "Just do what Ford says."
Norman, who does most of the maintenance on his truck personally, also credits a network of Ford Dealerships that he's gotten to know across the country with helping keep his Super Duty on the road.
OK, so a husband-and-wife team managed to essentially drive to the moon four-and-a-half times in their 2002 Super Duty. A fluke, right?
Consider the story of Duane Thalan, who recently crossed the 1,229,000-mile mark in his 1999 F-250 and is still going. In fact, his truck still has the original fuel injectors.
Much like Norman and Debbie Conner, Duane packed on his miles hauling campers and boats all over the U.S. and Canada. He's been fond of Ford trucks ever since he worked at a Ford Dealership. He does a lot of the routine maintenance on his Super Duty and says that you just have to accept that sometimes things are going to break. The trick is to be proactive.
"Keep stuff lubricated," he suggests. "It will last a lot longer if you pay attention. Look under it, make sure nothing is leaking."
While Duane may have had to make the occasional pit stop, he says his trusty F-250 has never left him stranded. That's why he's not planning on trading it in anytime soon. He just trusts it.
Do you have a high-mileage Ford vehicle that you trust? We want to hear about it! In fact, we've put aside some cool Ford Social swag for the occasion. Submit your story, and the first 50 people who get their high-mileage stories published on Ford Social will get a Ford Social T-shirt. Even if you don't have a million miles on your Ford (yet), we still want you to submit your story. And don't forget to grab our High Miler badge!




June 26, 2012
8TH Annual Car Show Draws Record-Breaking Entries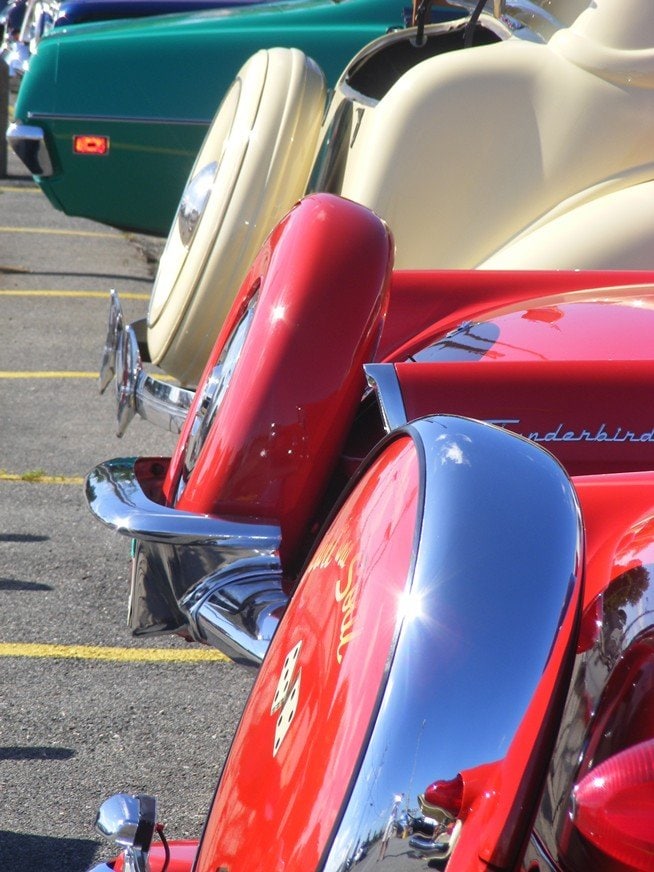 Ashley Ford was the place to be on June 16th for their 8th annual SVT Cobra, Mustang and All Ford Show. The weather was perfect and the Ford fans from all over New England came out in force making this the biggest turnout ever. Representatives from the SVT Cobra Mustang and Downshifters clubs were on hand to make sure everything ran smoothly. Mustangs from the 60s all the way to the current model were represented with some of the finest examples in the area. Carl Burke brought his 1966 fastback from Hanson, MA with it's fully built twin turbocharged engine and was rewarded with a first place trophy in the early Mustang class. Who says that hot cars are just for guys, surely not Quincy's Suzzanne Baker. Her 2003 Mustang GT attracted a lot of attention with it's pink accents, supercharged motor, led lighting, plenty of polished metal. She drove away with a first place trophy for all her hard work. The late model Mustangs were also well represented and not the least of which was Scott Welch's very rare 2009 King of the Road edition Shelby GT 500. Scott came all the way for Marlbrough CT and came away with one of the top trophies for his effort.
It wasn't just Mustangs at Ashley Ford. New Bedford's own Dolores Faber drove her 1958 Skyliner with it's retractable roof the short drive to the dealership and took away the first place trophy in the convertible class. Nothing says 50s like a T-Bird and Everett Philla's high scoring 1955 red roadster was truly outstanding example. It wasn't all 50's in the non Mustang classes. Emerson Brathwaite brought his 2003 Mercury Maurader from Randolph MA. This highly detailed black on black daily driver attracted a lot of attention not just from the other participants but also from the judging staff. So much so that he earned the best of show trophy which makes him eligible for the Super Wheels Showdown at City Hall Plaza this fall. It is there that the best of the best will compete for the best car in the area for 2012. Good luck Emerson!
June 14, 2012
Big Wheel Maunel Mederios of Ashley Ford offers Bilingual Sales
May 7, 2012
2013 Ford Shelby GT500 - First Drive!
http://www.roadandtrack.com/tests/drives/2013-ford-shelby-gt500
May 4, 2012
First Look - 2014 Ford Mustang Photo Gallery!
http://www.roadandtrack.com/future-cars/first/2014-ford-mustang-sedan/gallery
April 27, 2012
2014 Ford Mustang Sedan - First Look
New 4-door Mustang sedan may also be available as a Boss 302.
By Nick Kurczewski / Illustrations by Theophilus Chin / Chris Doane Automotive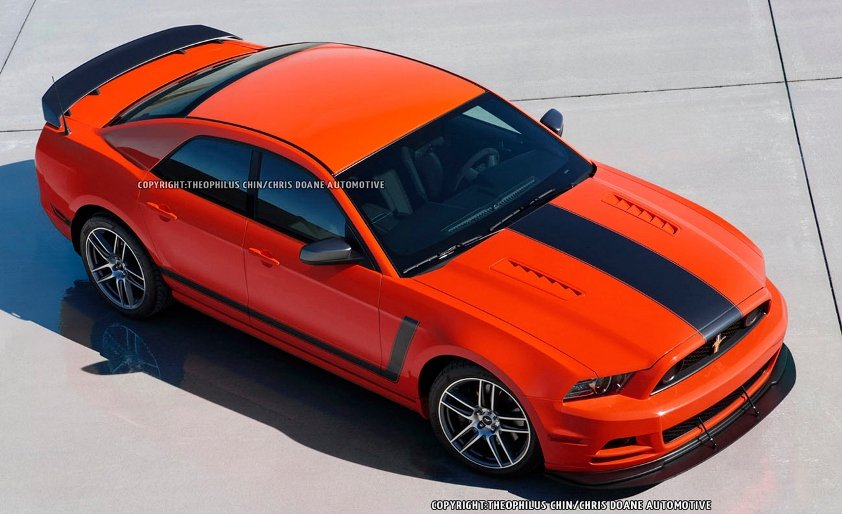 In a move certain to elicit praise from muscle car fans with kids-and perhaps an equally huge outcry from automotive purists with a fondness for coupes-Ford Motor Company has announced plans to introduce a sedan variant of the Ford Mustang. With sales of rivals, especially the Chevrolet Camaro, eating into Ford's share of the pony car segment, the Dearborn automaker has decided to take a radical new approach by introducing this 4-door offering in 2014. The horsepower battle that has been raging between Ford and Chevy recently culminated in the 650-bhp Ford Mustang GT500 and 550-bhp Camaro ZL1. During the 2012 New York Auto Show, a 1000-bhp Mustang, the Shelby 1000, will be on display. While this kind of firepower is impressive for drag-strip figures, these ultimate speed machines make up only a tiny sliver of sales output.
Strength Through Numbers
Ford representatives explained that the addition of two doors makes the Mustang more user-friendly, and its spacious back seat will make the car appeal to an entirely new type of buyer. The benefit, at least from Ford's point of view, will be a noticeable boost in sales output for the 'Stang. Even though the Mustang will no longer be such a narrowly focused niche product aimed at enthusiasts, the new Mustang sedan will offer much the same performance as its coupe sibling. While this prototype has the look of a Boss 302, production models will more closely mimic the look of the standard Mustang. The mechanicals are not confirmed, but we can assume the base engine will be the same 305-bhp 3.7-liter V-6 found in the Mustang coupe and convertible. A 412-bhp 5.0-liter V-8 will be optional, and buyers will have a choice of 6-speed manual or 6-speed automatic transmission.
The ride and handling balance will undoubtedly lean toward comfort, if only because of the added length and expected weight gain. The 2014 Ford Mustang sedan is approximately 11 in. longer than the coupe, though the extra length is balanced by shorter front doors and a significantly reworked C-pillar. While a Boss 302 sedan like the one pictured is not all that likely, Ford reps have confirmed that even more changes could be in store for the Mustang. A hybrid-powered variant, or possibly even a diesel version, could be introduced to increase the Mustang's hitherto dismal ratings when it comes to fuel efficiency. The move might sound drastic, but stricter fuel economy regulations could force the muscle car and pony car market into even more unfamiliar territory. And think of all that torque! Look for the 2014 Ford Mustang sedan to make an appearance later this year, possibly during the Los Angeles Auto Show, or in Detroit in early 2013. Sales begin next year, with pricing to be revealed closer to the on-sale date.
http://buyersguide.roadandtrack.com/ford/mustang
April 24, 2012
2012 Shelby 1000 - First Drive!
A 200-mph, 1000-bhp Mustang created by Shelby American.
By Andrew Bornhop / Photos by Brian Blades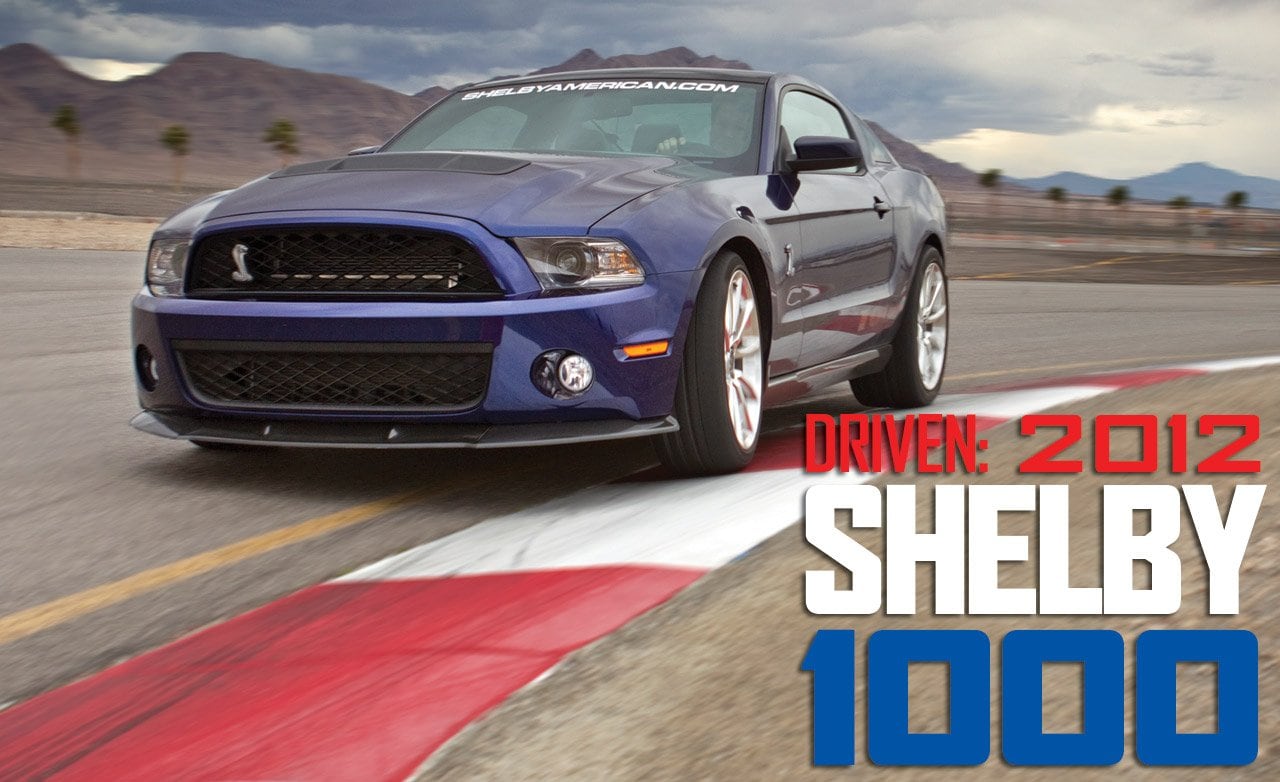 http://www.roadandtrack.com/tests/drives/2012-shelby-1000
April 20, 2012
2013 Ford Shelby GT500 Debuts As Most Powerful Production V8 in the World with 650 Horsepower, Top Speed of 200+ MPH
2013 Ford Shelby GT500
· New Ford Shelby GT500 is powered by an aluminum 5.8-liter supercharged V8 producing 650 horsepower and 600 lb.-ft. of torque, making it the most powerful production V8 engine in the world
· Nearly every vehicle system has been optimized including powertrain, brakes, gearing and suspension
· New Shelby GT500 sets a performance-driven design standard with new downforce- generating front grilles, aggressive splitter, new quad exhaust system and two new forged-aluminum wheels
· Also new for 2013 is an optional Performance Package with SVT-designed Bilstein electronic adjustable dampers and a Torsen limited-slip differential. The offering can be coupled with a track package for all-out racetrack performance
http://media.ford.com/article_display.cfm?article_id=35567
April 19, 2012
Please post on Thurs. 4/19:

2013 Ford Taurus
The new Ford Taurus is even more refined with better fuel economy, more technology, improved craftsmanship, enhanced design and sharpened driving dynamics, once again raising the bar among full-size sedans. Expected to deliver best-in-class fuel efficiency with the new 2.0-liter EcoBoost engine and expanding customer convenience offerings including active park assist and MyFord Touch, Ford's smartest sedan brings even more technology to the Ford showroom. For the 2013 model year, the new Taurus SHO becomes the sportiest Taurus yet to wear the coveted performance badge. With its unique blend of the award-winning, fuel-efficient EcoBoost engine, enhanced driving dynamics and performance-inspired design, the new Taurus SHO shows it means business.
http://media.ford.com/mini_sites/10031/2013Taurus/
April 16, 2012
New Model debuts with a new model and features
FordInsideNews.com
Starting with the new features, Ford is now making available MyFord Touch in the Super Duty. Coupled with Sync, Ford has optimized the systems for truck drivers. The knobs and buttons for the Super Duty were designed with gloves in mind. Even the 8 inch touch screen's sensitivity was modified to respond with gloves. MyFord Touch comes standard on the Platinum and is available on lower end models

Expect to see the new 2013 Super Duty at dealerships later this year. The Super Duty might also be joined by a freshened 2013 F-150 as well.
http://www.fordinsidenews.com/forums/showthread.php?8430-New-2013-Super-Duty-Takes-a-Ride-with-the-Bulls
April 12, 2012
2012 Focus ST
Focus ST delivers true performance in every aspect.It combines power with precision, strength with agility, force with finesse. The high-output 2.0L EcoBoost® engine is built to give ST a signature sound and feel, while high-performance brakes and a uniquely tuned sport suspension help make it the street fighter that it is. This is a vehicle that's been reworked in its entirety to forge a perfectly balanced blend of refined engineering and undiluted adrenaline.
Coming late 2012.
http://www.automobilemag.com/auto_shows/frankfurt/2011/1109_2012_ford_focus_st_first_look/index.html
The 2012 Focus ST is the first global Ashley Ford Service Tech Earns Award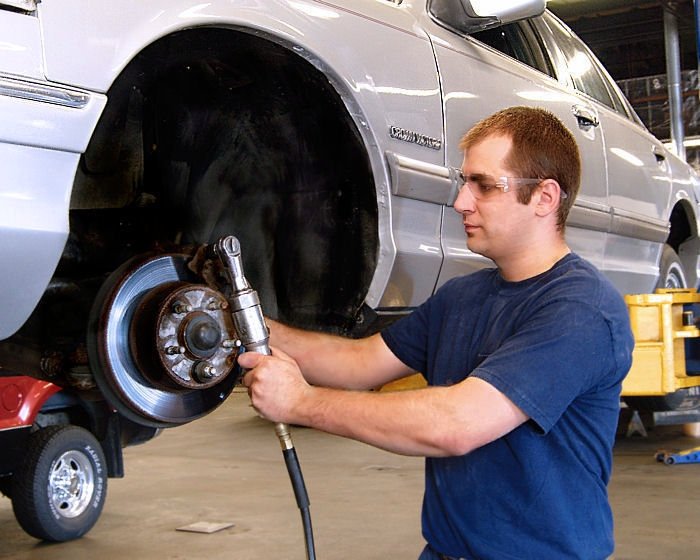 Christopher St. Pierre, a four-year Senior Master Technician at Ashley Ford has been recognized by Ford Motor Co. for several achievements in the 2012 Masters program. Mr. St. Pierre is one of only 368 technicians who holds the status of Senior Master Technician in Massachusetts. He recently earned the following achievements: Senior Master, Chassis Master, Drivetrain Master, and Engine Master. He has demonstrated his commitment to his trade by continuing to reach and exceed expectations set by Ford Motor Company. Bob Bancroft, President of Ashley Ford states "Chris is a highly skilled technician who specializes in our Hybrid and Diesel work. Technology is continually advancing and we need to meet the demands for servicing these advanced diagnostic vehicles with highly skilled technicians who are properly trained."
Mr. St. Pierre has been a service technician at Ashley Ford for 16 years. "It's a huge accomplishment to reach this degree of training," explained Bruce Costa, Service Manager, "there are not many automotive technicians that have reached this level. It requires a lot of time and effort on the part of the individual as well as a large commitment from the dealer to send their technicians to these classes." Mr. St. Pierre has taken hundreds of classes over time as a technician for Ashley Ford.
April 9, 2012
2013 Ford Escape SUV - The Smarter Way to Get There
The 2013 Ford Escape SUV - See the Ford Escape Sport Utility Vehicle with impressive fuel economy & abundant power. View interior and exterior photos, explore detailed specs, see vehicle features and more.
http://www.motortrend.com/roadtests/suvs/1111_2013_ford_escape/viewall.html
Twelve years after it entered the market as a family-friendly, reasonably sized sport/utility box, the Ford Escape finally is getting the attention to design that something this popular deserves. The ironic thing is the outgoing model is flying off dealer lots, thanks in part to end-of-lifecycle discounting and the shortage of key Japanese competitors Honda CR-V and Toyota RAV4.
The new 2013 model, which goes on sale in the first half of '12, converges like most of the rest of non-F-Series/Mustang North American models with their European counterparts. The new one looks much more like the replacement for the European Ford Kuga than for the U.S. Escape. In Europe, the compact crossover with two rows of seating is far more popular, and far easier to find, than the three-row midsize and large The new model tosses out any V-6 option for three four-cylinder engines -- two of them turbocharged gas direct-injection EcoBoosts -- while maintaining a 3500-pound tow rating with either front- or 2012 Toyota Camry hybrid by 4 mpg in the city and 5 mpg on the highway and the 2011 Hyundai Sonata hybrid by 12 and 4 mpg, respectively. For those less inclined to do the math, that translates to early estimates of 47 mpg city and 44 highway for Ford's gas-electric.
http://www.caranddriver.com/photo-gallery/2013-ford-fusion-photos-and-info-news

April 4, 2012
Ford C-MAX Energi garners 2012 Green Car Vision Award
Green Car Journal awarded the Ford C-MAX Energi 2012's Green Car Vision Award. The Ford Focus Electric captured the award last year.
Green Car Journal dubbed the Ford C-MAX Energi winner of the 2012 Green Car Vision Award yesterday at the Washington Auto Show. This is the second consecutive year Ford has won top honors; the Ford Focus Electric garnered the award last year.
The Ford C-MAX Energi, which will be available in late 2012, is built on the same global C-car platform as the Ford Focus and future Ford models, the automaker said.
The C-MAX Energi bested four other finalists, including the BMW i3, the Cadillac ELR, the Mercedes-Benz B-Class F-Cell, and the Tesla Model S.
"The C-MAX Energi delivers on efficiency and versatility, while its engineering enables straightforward use of a common platform for a wide range of uses, buyers, and worldwide markets at manageable cost," Green Car Journal editors said in an announcement.
March 16, 2012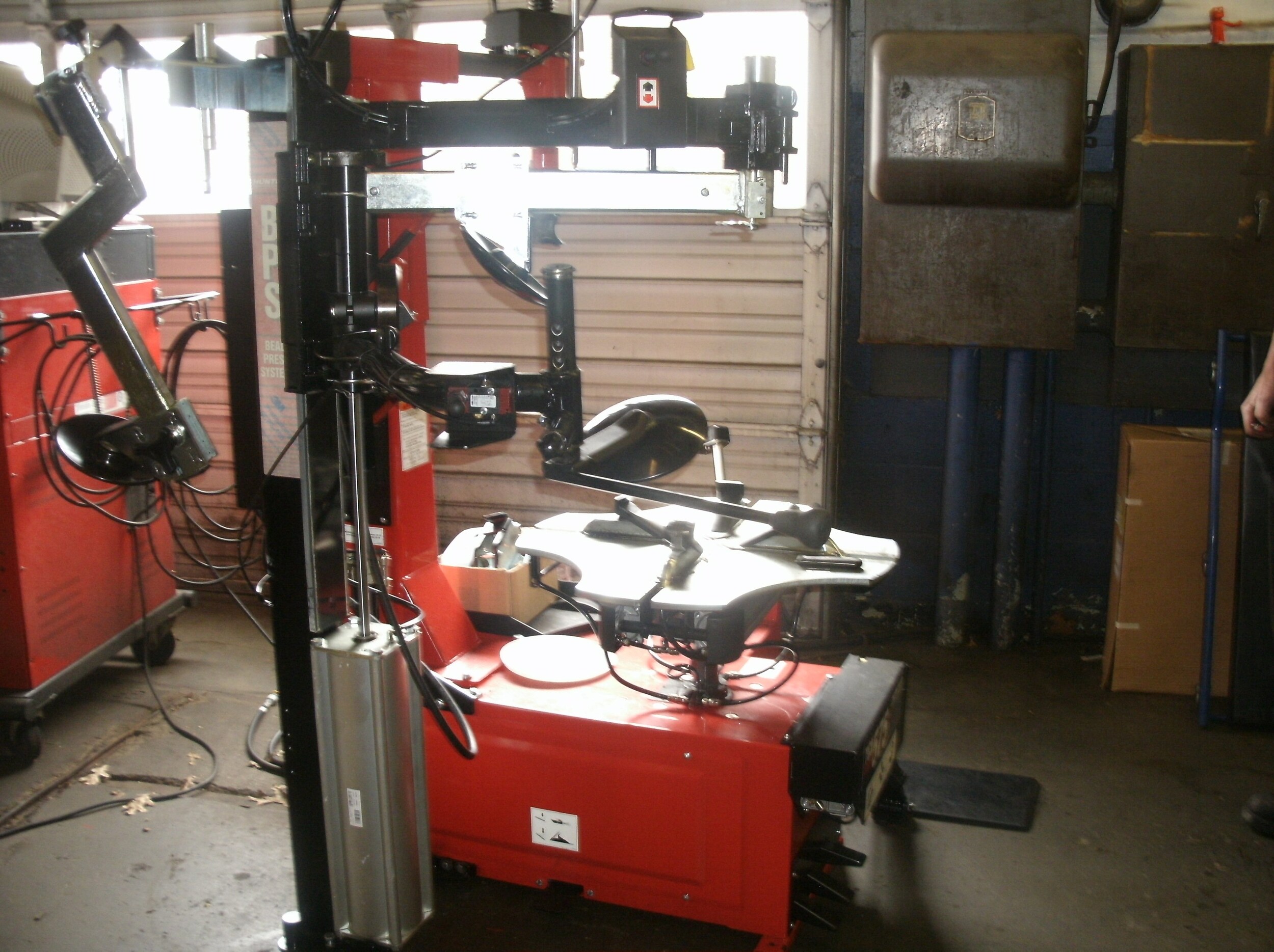 TIRE MACHINE IMPROVES EFFICIENCY
Special Care for Specialty Rims and Heavy Duty Trucks
Ashley Ford wants to make sure your wheels are handled with efficiency and care. More and more vehicles are coming equipped with specialty rims, like the Ford Flex, Ford Edge and Ford Mustang with their 20" chrome rims. We're also servicing more and more heavy-duty trucks that require special tire changing machines. For that reason, Ashley Ford has invested in the new Tire HUNTER TCX 575 Changing Machine. According to Robert Bancroft, Ashley Ford President, "the Hunter tire changing machine compliments the Hunter Alignment Machine and Tire Balancers we already have. With this equipment, we can service any vehicle regardless of size. We want to make sure that the vehicles we service are handled efficiently and carefully." Bancroft explained that the investment in this new equipment will improve technician efficiency and reduce the potential for damage to tire rims. He emphasized that Fleet customers need their vehicles on the road, not in the shop, and this equipment cuts the job time in half! View the video below!
http://www.youtube.com/watch?v=mzYKTZc2ukY
March 13, 2012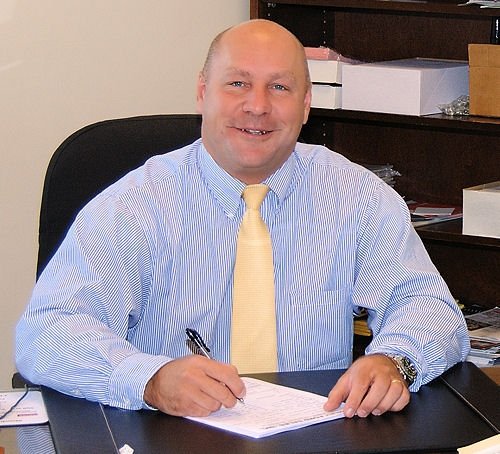 Ashley Ford is pleased to announce that Kevin Bancroft, Sales Manager, has been awarded the 2011 Employee Excellence award. This award recognizes the outstanding performance in sales, customer satisfaction and training and is only awarded to the select few who achieve this high status. As stated in the correspondence Mr. Bancroft received, "Ford appreciates their support in the only front-line dealership employee program that recognizes the Elite and Best of the Best in Sales and Fixed Operations." Ford Motor Co. proudly supports its dealers in this highly regarded program and has presented Mr. Bancroft with a commemorative plaque with a congratulatory message from Alan Mulally, Ford Motor Company's President and CEO.
July 07, 2011
Ashley Ford Helps to Keep the Roads Safe From Repeat Drunk Driving Offenders
We are a supplier of the the Intoxalock® program which is a state-of-the-art breath alcohol ignition interlock device (BAIID) designed to minimize the opportunity of a driver operating a vehicle while under the influence of alcohol - Read more about the Intoxalock Program...
July 07, 2011
SYNC* is an easy-to-use in-car connectivity system that allows you to make hands-free calls and control your music and other functions with simple voice commands. - Learn more about SYNC...
April 14, 2011 Article from Herald News: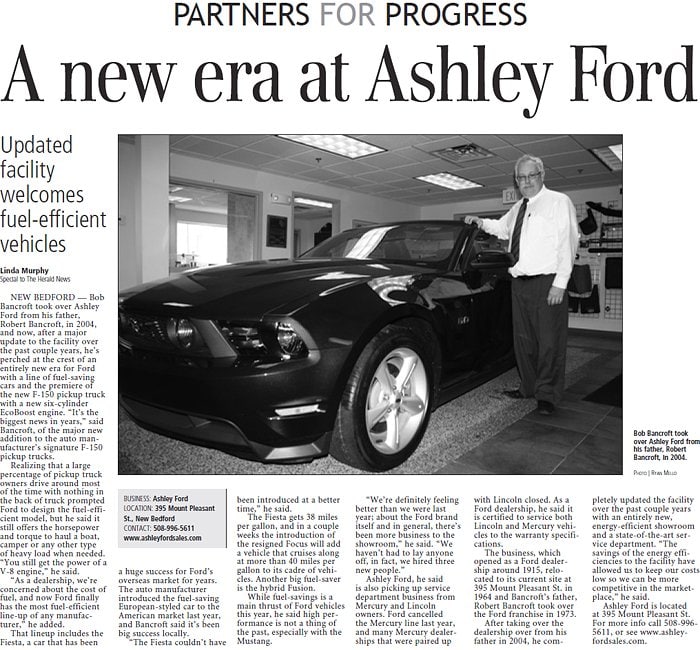 April 24, 2010 Article from Herald News: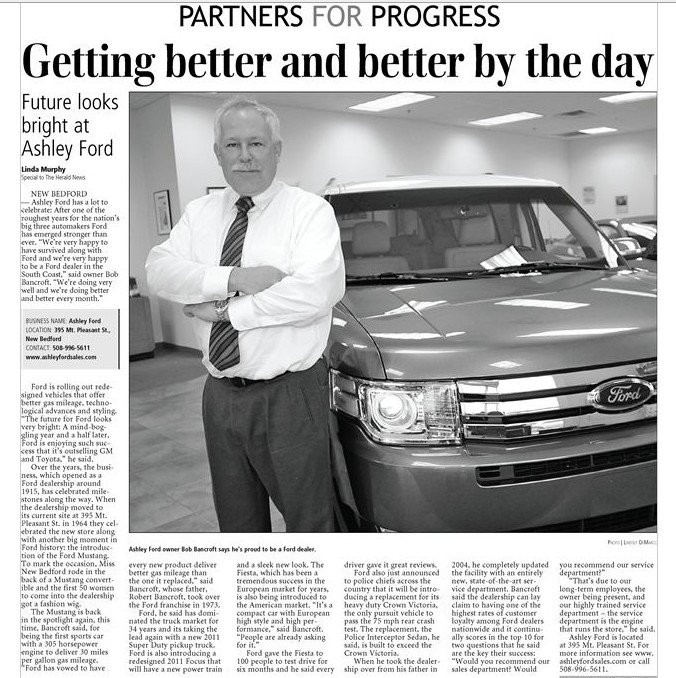 October 17, 2009

Why Educate the Consumer ... read more

August 9, 2009

Ups and downs of Cash for Clunkers program ... read more

August 4, 2009
As `clunkers` program reaches new stage, dealers struggling to keep enough new cars on lots ... read more
July 19, 2009
Raffle falls short, but still pays off (SouthCoast Today) ... read more
Jun 21, 2009
Trade in a gas guzzler and get government cash (SouthCoast Today) ... read more
June 21, 2009
House passes "clunker" plan to boost car sales (SouhtCoast Today) ... read more

June 19, 2009
DealersEdge Daily Headlines 6/19/09
In passing a Cash for Clunkers bill as an add-on to funding for the wars in Iraq and Afghanistan, Democrats also defeated the environmentalist wing of their own party, who wanted a bill that would favor passenger cars over pickup trucks and SUVs.

According to a Business Week analysis, here's how the program will work: Car owners get a voucher worth $3,500 if they trade in a vehicle whose original gas mileage was 18 miles per gallon or less for a vehicle that gets at least 22 mpg. The value of the voucher would grow to $4,500 if the mileage of the new car is 10 mpg higher than the old vehicle.

Owners of SUVs and pickups that get 18 mpg or less would receive a voucher for $3,500 if their new truck or SUV gets at least 2 mpg higher than their old vehicle. The voucher would increase to $4,500 if the mileage of the new truck or SUV is at least 5 mpg higher than the older vehicle.

Left completely out of the program, though, are car owners who might want to trade in an old car that gets, say, 20 mpg for a new one that gets 35 mpg or greater. Environmentalists had hoped for language that was less favorable toward SUVs. But in the end, the bill was written to help automakers and dealers sell more vehicles.

Car dealers are bracing for some confusion in the showroom. The biggest issue will be when consumers realize that they get nothing for the trade-in of their vehicle and that the only money they get toward the purchase of a new vehicle is the government money. Since the old cars will be scrapped, they have no resale value to the dealer. Assuming the President signs the bill, the program is now expected to begin in early August.
---
June 18, 2009
House OK's cash for clunkers - WASHINGTON - The U.S. House approved a plan today offering up to $4,500 for owners of gas-guzzling clunkers to trade in their wheels for new models in a bid to boost the lagging market for new vehicles ... read more!
---
January 20, 2009
Standard Times story ... read more!
December 10, 2008
Herald News Shelby GT500KR Raffle article ... read more!
December 7, 2008
Free safety seat inspections ... read more!
July 5, 2008
New Website press release ... read here!
July 25, 2008
With the recent loss of many Lincoln Mercury dealers in the area Ashley Ford has added more technicians in both the service department and collision repair to handle customers now without a dealer. Ashley Ford is authorized by Ford to provide warranty service and parts for Lincoln and Mercury products. Ashley Ford's Body shop has just added a new Dupont paint system for the best paint matches on new as well as aged vehicles and a bake-on finish paint booth that can handle the largest trucks and SUV's.
July 26, 2008
Ashley Ford's 4th Annual Mustang and SVT Cobra Car Show drew over 400 enthusiasts with a total of 75 entries and over 32 trophies awarded for 13 different classes. Owner, Robert Bancroft, Jr. commented "we were extremely pleased with the turn out this year. Each year our event continues to grow and we're proud to sponsor such a fun and exciting event in the city of New Bedford. The Mustang continues to draw followers and the enthusiasm for the "pony car" continues to thrive! We're very fortunate to have the SVT Cobra Club and the Mustang Car Club of New England assist us with our yearly event as well as getting the word out to their members. We had people travel from as far as Connecticut, Rhode Island and New Hampshire. In fact, we even had a visitor stop by from Germany!

The "Best in Show" winner, two years in row, went to Albert Lagarto, Jr. of Seekonk, with his immaculate 1973 yellow Mustang Mach 1. Mr. Largato will attend the Super Wheels Showdown at City Hall Plaza in Boston in October. Other winners included Richard Simons, from New Bedford, with his '92 2 door, Bob Grahn with a '94 Convertible GT from Millbury, MA; Craig Gagner with an '07 GT/CS from N. Oxford, Anthony Lucchetti from Pawtucket, RI with his '03 Coupe, Randy Rusk with his '97 Hardtop from Exeter, RI; Steve and Nancy Cody with their '03 Cobra from Plymouth, MA; Doug Oakes with his '07 Mustang GT from Shrewsbury; Earl Mason Jr. with his '59 Retractable from Westport; John Bettencourt with his '73 convertible from New Braintree; Ernie Silvia with his '31 Convertible from Lakeville and lastly, Lenny Cormier with his '64 HDT from Acushnet.

This annual event was co-sponsored by the SVT Cobra Club, The Mustang Car Club of New England and the Downshifters Car Club of New England. Ashley Ford provided free refreshments and $300 in free Ford and Mustang merchandise. Entertainment was provide by "Johnny Angel," a well-known DJ with many followers for car cruises in the Southcoast area. Anyone interested in participating in next year's show can contact Robert Bancroft, Jr. at (508) 996-5611 to be placed on our mailing list or visit our special mustang day page for more details!